January/February 2015
1051 Hillsboro Mile, Apt. 604
Hillsboro Beach, FL 33062
(954) 788-3380
39 Whitney Drive, Woodstock, NY 12498
(845) 679-5526
email: successaerobics@aol.com
web site: http://www.carybayer.com
"The purpose of Creation is the expansion of happiness."
–Maharishi Mahesh Yogi
Cary's meditation newsletter is now online here
New CD: "The Beatles Higher Consciousness & Meditation"
This 2 ½-hour musical/meditation class, recorded live in Newburgh, NY, is made up of four sections:
In Part 1, you'll hear several songs by the Fab Four that will inspire new insights and awakenings.
Part 2 presents an introduction to a simple, but powerful, meditation practice.
Part 3 teaches a cleansing breathing technique practiced by the Beatles at Maharishi's ashram in India.
The class concludes (Part 4) with a mantra meditation that gives the experience of the effortless nature of the meditation that the Beatles sang about.
The cost is $25.00 plus $3 (S&H)
You can order it online at my store here,
by email at
successaerobics@aol.com,
or by calling me at
(954) 788-3380
Free
Advanced Monthly Meditation Webinar Moving to Wednesdays
The advanced meditation webinars, held for those who meditate on Wednesday nights at 7 PM eastern time, start off with me opening the "floor" to questions about your meditation practice and/or understanding of the path of evolution of consciousness. Then, I'll do a group meditation check. After that, I'll direct you to a link for a talk by Maharishi, which each meditator can play on his or her computer. Lastly, I'll take questions, and lead a discussion about the video.
Here's the dial-in number for it:
(712) 432-0075
You'll then be asked for a participant code, which is:
370690 and then #
If you're in front of a computer, when the time is right you can watch the video that we'll discuss afterwards.
Here are the links to those videos:
The January/February schedule follows below:
Thursday January 7 @ 7 PM
"Boredom is Against Life" 3:18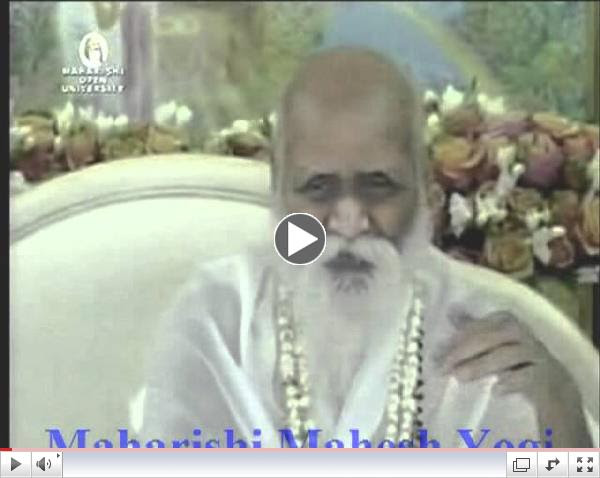 Boredom is against life – Maharishi Mahesh Yogi
Wednesday February 4 @ 7 PM
Maharishi at Lake Louise, Canada, 6:10
Transcendental Meditation – Maharishi Mahesh Yogi at Lake Louise, Canada, 1968
Product Profile:
Beatles Yoga
In this, my latest mini-book, deep wisdom from 10 Beatles songs are elucidated in much the same manner that commentators interpret spiritual literature like the Bible or the Bhagavad Gita. In this 88-page book, I examine every word in the verses. Some of the songs looked at are "Across the Universe," "Within You, Without You," and "The Inner Light," among others.
The cost of the book is $12, plus $3 in shipping & handling. You can find it in the store on my website here.
Article:
The Fourth (State's) the Charm
"The fourth (state of consciousness), say the wise, is not subjective experience, nor objective experience, nor experience intermediate between these two, nor is it a negative condition which is neither consciousness nor unconsciousness. It is not the knowledge of the senses, nor is it relative knowledge, nor yet inferential knowledge. Beyond the senses, beyond the understanding, beyond all expression, is the Fourth. It is pure unitary consciousness, wherein awareness of the world and of multiplicity is completely obliterated. It is ineffable peace. It is the supreme good. It is One without a second. It is the Self. Know it alone!"
–The Upanishads
Unless you're Rip Van Winkle or in a coma, you're familiar on a daily basis with three changing states of consciousness. They are dreamless sleep, dreaming, and waking. Underlying this trio of changing states is a fourth state–described above–that most people never glimpse. It's non-changing, beyond time, your true Self and bliss to boot. When we live without it as a cushion, we're like a soccer ball kicked around; with it, we live steadfast peace, regardless of what happens.
How to Awaken the Fourth
Connecting to your higher Self in this fourth state is possible at any moment while waking, in sleep, or dreaming. That's because your higher Self–the infinite peace of your inner non-changing Being–underlies every moment of the three changing states. The easiest way to contact this state of Being, beyond activity, perception, thought and feeling, is to allow your changing mind to settle into the non-changing peace of the Self. Meditation is the best way to do that because, being seated, you're not going anywhere, and with eyes closed, you've begun to reduce perception. When you use a mantra to quiet the mind you further raise the odds for making contact with the fourth state.
(For purposes of full disclosure, I've been contacting this fourth state since I was 17, when I learned Transcendental Meditation (TM). Three years later, I began to teach it too, and taught many hundreds of others through 2009, training dozens of teachers as well. In 2010, inspired by this experience as a meditator and meditation teacher, I launched Higher Self Healing Meditation, which accomplishes this contact with the Fourth as effectively as TM, and at a third of the cost.)
If you're one of those people who hasn't yet connected to the infinite silence, peace, and bliss of your higher Self–the non-changing fourth state underlying your changing experiences of waking, dreaming, and sleeping–why not come home? When a runner does that in baseball, his teammates give him high-fives. If you do this in the meditation I teach you will feel high–and you'll be on your way to experience state of consciousness five, in which the non-changing fourth state co-exists on a 24/7 basis with the changing three states.
But that's a whole other column.
Quote of the Month
"The state of least excitation of consciousness is the field of all possibilities."
–Maharishi
Sign of an Age of Enlightenment?
Speech excerpts from Martin Luther King, Jr. and Mahatma Gandhi are featured in a new corporate branding TV ad campaign from Unilever. The spot focuses on young people fighting hunger. The company's Project Sunlight attempts to combat child hunger in concert with Feeding America. Unilever claims to have donated in excess of 30 million meals since 2009 through the Feeding America's food pantries, and also uses its ProjectSunlight.Us site to urge others to help.
Testimonial
"I was trained by Cary Bayer 8 years ago in how to meditate, and I am so grateful for his inspiration to learn. The practice has led to a slow and steady transformation of my being. I feel more patient, more relaxed, more grounded and wiser. Cary is truly an expert in conveying the ideas and simple techniques. At first it seemed like it would be impossible to keep up a daily practice but now it is an ordinary and transformative part of my life."
–Philip Mason, Retired Sales Executive, Gardiner, NY
All New Transcendental Coaching Launched
As many of you know, two of the greatest passions in my career are teaching meditation and coaching. And now the two have come together in a brand new method. Let me explain.
The Higher Self Healing Meditation that I founded in 2010, after teaching Transcendental Meditation for decades and training dozens of its teachers, can give you the experience of the Transcendent, the inner Being within you. When you combine the experience of the Transcendent with an advanced form of coaching you get my newest offering-Transcendental Coaching.
What makes Transcendental Coaching unique is that it draws upon mankind's ancient timeless wisdom-from the Hebrews, Jesus, Buddha, Lao Tzu, the Vedas of India, and the native Americans of our own continent–to help coach you into the life that you were truly born to live. It incorporates deep knowledge of the way that the Universe operates, so that your life can flow in tune with the Laws of Nature. Enjoy clarity for your mind, purity for your heart, prosperity for your net worth, and spirituality for your soul. It takes into account the knowledge of Karma, the knowledge of Dharma (action in accordance with Cosmic Law), the knowledge of clearly defined higher states of consciousness, and an understanding of the nature of Enlightenment itself. This helps bring your life increasingly in tune with Nature, and to live in freedom.
The result of this attunement is more frequent experience of synchronicities (being in the right place at the right time), less struggle, less resistance to the fulfillment of your desires, and an overall greater sense of your life as a delightful flow.
The prerequisites for Transcendental Coaching are the 3-day training in Higher Self Healing Meditation, and 10 hour-long coaching sessions.
To learn more about this extraordinary synthesis of meditation and coaching you can download the brochure here.
Meditation Training Available
via Skype & Webcam!!
When I taught Transcendental Meditation for several decades, I could only teach it in person. But since founding Higher Self Healing Meditation in 2010, I'm happy to say that the training is now available from a distance if you have a webcam on your computer. Let me know if you'd like to take advantage of this valuable stress-reducing method, even if you live far from my homes in upstate New York and south Florida.
Want to Make Money
from Meditation?
When I ran my own marketing/PR firm, I loved thanking anyone who referred a new client to me, by sending a check for 10 percent of the fees generated. I have a similar policy as a meditation teacher. If you inspire someone to become my student, you'll receive 10 percent of the course fee. That means a check for you of $50 for caring enough about the people in your life that you'd like them to live with more freedom from stress. It's my way of saying, "thanks." My thought is simple–who couldn't use a piece of unexpected income?
I also give you 20 percent of the revenues for any meditation course that you produce or sponsor for me. Sponsoring means finding a time and space for the free introductory lecture and the three days of hour-and-a half classes-it could be your own living room, if you like-and it can also be held on the Internet as a webinar. I would email you a flyer for the lecture, which you'd then email to the people in your life. If five people learn to meditate, for example, you would enjoy $500 for your work.
Growth Products from Cary Bayer
To view my products on the web site click
Love and Light,
Cary Bayer