Cary's meditation newsletter is now online at
http://carybayer.com/newsletter-meditation.html
THE MAY/JUNE
MEDITATION NEWS
1051 Hillsboro Mile, Apt. 604,
Hillsboro Beach, FL 33062
(954) 788-3380
Woodstock, NY 12498
(845) 664-1883
email: successaerobics@aol.com
web site: http://www.carybayer.com
"The purpose of Creation is the expansion of happiness."
–Maharishi Mahesh Yogi
CONTENTS
New Class on Star Wars, the Force, & Meditation Launched; Free Monthly Meditation Webinar; Advanced Technique Available; Meditation Retreats; Product Profile: Pop Music, Transcendence & Meditation; Article: "The Worth of Words and the Value of the Silence;" Quote of the Month; Sign of an Age of Enlightenment?; Schedule of Classes; Testimonial; Meditation Now Available by Skype; New Transcendental Coaching; Meditation Retreats; Want to Make Money from Meditation?; Books and CDs
New Class on Star Wars, the Force, & Meditation Launched
"May the Force be with you," we're told in George Lucas's Star Wars saga. In this workshop, "Star Wars, the Force, & You," The Yoga of Entertainment author Cary Bayer provides techniques to help you align your consciousness with the Force that underlies your life and pervades all things. The former teacher of Transcendental Meditation and founder of Higher Self Healing Meditation also provides an in-class experience of effortless mediation in which the Force directs the process. What's more, it teaches the power of commitment, and shows how to retrain your consciousness and speech to put you in the flow of the Force and have the power of the Universe behind your thoughts and action. Lastly, it articulates some of the latent superhuman abilities that Yoda taught Luke Skywalker, and describes the ancient Yogic method for manifesting such inner resources.
The class debuts in the Oakland Park section of Ft. Lauderdale at the Center for Inner Wisdom on June 5 (954-696-6389).
If you'd like to take the workshop for free, receive 40% of its revenues by making it available in your area, give me a call at (845) 664-1883 and I can explain how easy it is to do.
Free Advanced Monthly Meditation Webinar
The advanced meditation webinars, held for those who meditate, start with me opening the "floor" to questions about your meditation practice and/or understanding of the path of evolution of consciousness. Then, I'll do a group meditation check. After that, I'll direct you to a link for a talk by Maharishi, which each meditator can play on his or her computer. Lastly, I'll take questions, and lead a discussion about the video.
Here's the dial-in number for it: 712) 432-0075
You'll then be asked for a participant code, which is 370690 and the pound sign
If you're in front of a computer, when the time is right you can watch the video that we'll discuss afterwards.
The May/June schedule follows below. To access each video, simply click on the arrow in the TV frames.
Wednesday May 11, 7 PM
"The Path to Gaining Knowledge Inside" 12:57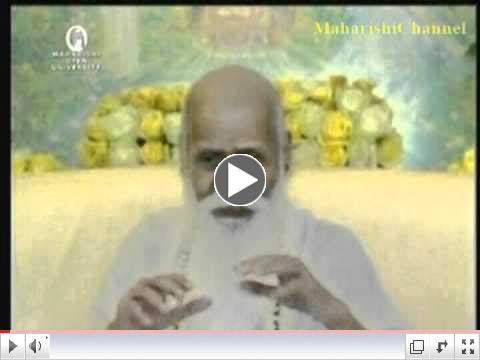 Thursday June 2, 7 PM
"The Mechanics of Experiencing Finer Levels of the Mind" 10:38
Meditation Retreats
A number of meditators have expressed interest in deepening their experience with meditation. Toward that end, I created a one-day retreat called "A Retreat into Peace, an Advance in Knowledge." It provides a day of profound rest, renewal, and healing, in which you get a chance to take another big step toward Enlightenment. Instead of your usual twice-a-day daily meditations, you'll get to meditate and rest for four hours in a safe and appropriate environment. The deeper experience is complemented by profound knowledge through videos and discussion. What follows is a quote from a meditator who's hosted many such retreats.
"I have found that meditation reduces my stress, and increases my energy, focus, and capacity for joy. Attending a full-day meditation retreat is always a day of profound rest and renewal. It is hard to describe the feelings of deep peace and contentment that follow the experience. Thank you Cary for making it all possible."
— Patricia Burke, retired RN, Jacksonville, FL
The next one will be on June 9 in Jacksonville
Product Profile:
Meditations on Christ
Three essays depict the differences between ritual and spiritual and how one can embody the teachings of Christ; the enlightenment teachings of Christ; and inner transformation through his work.
The mini-book contains 48 pages, and is available for $10, plus $2.50 for S&H. at
http://carybayer.com/meditation.html or by calling (845) 664-1883.
Column: "Walt Whitman: Poet of Enlightenment"
If you enjoy the column below you will love my 78-page mini book, Walt Whitman: Poet of Enlightenment. The book features dozens of passages from his epic poem "Song of Myself," in which he expresses so eloquently his cosmic, celestial, and unity experiences. The mini book sells for $12 on my website store at http://carybayer.com/the-popular-culture-series.html
It's enlightening to return to something you love. I had that pleasure at an exhibit at Manhattan's South Street Seaport Museum that commemorated a century and a half of Walt Whitman's poetry. Whitman presents the most expanded vision of any American poet; his consciousness was more spiritually developed than probably any other American writer.
I wrote a masters thesis called "Walt Whitman: Poet for an Enlightened Age," when I was a graduate student/teaching assistant at Maharishi International University. If you didn't realize that he's a cosmic poet, allow me to share a Whitman sampler:
"Knowing the perfect fitness and equanimity of things, while they discuss I am silent, and go bathe and admire myself."
"Who makes much of a miracle? To me every cubic inch of space is a miracle."
* * *
"Long enough have you dream'd contemptible dreams,
Now I wash the gum from your eyes,
You must habit yourself to the dazzle of the light and of every moment of your life."
* * *
"The universe is in myself–it shall pass through me as a procession."
* * *
"Bibles may convey and priests expound, but it is exclusively for the noiseless operation of one's own Self, to enter the pure ether of veneration, reach the divine levels and commune with the unutterable."
* * *
"I am the mate and companion of people, all just as immortal and fathomless as myself,
(They do not know how immortal, but I know."
The exhibit featured a pair of his boots. This reminded me of his depiction of higher consciousness in Song of Myself: "(I) am not contain'd between my hat and boots." I read his loving letters to the family of a dying Civil War soldier, whom he visited daily for months as a volunteer nurse. And I recalled his unforgettable line from Song of Myself: "I find letters from God dropt in the street, and every one is sign'd by God's name."
There was an audiotape of lines from his poem, "America," read two years later by Whitman himself into Edison's new phonograph machine. It was the only time I heard Whitman's voice. This, and lines from his epic "Song of the Open Road," brought me back to my cross country teaching trip when I listened to a tape of actors reading his poetry.
There were 150-year-old references to homosexuality. I was thrilled to see his words read by openly gay exhibit goers. To realize that the Supreme Court has made gay marriage legal was truly wonderful.
To see how a woman (Senator Hillary Clinton) nearly ran as the Democratic Party's Presidential candidate, I realized how far ahead of his times Whitman was, advocating female equality. The exhibit omitted his transcendental poetry, incorporated above, that resemble India's wisdom. That night, I practiced the Higher Self Healing Meditation that I teach, and my mind slipped into the transcendental Self that Whitman celebrated. I was lucky to regularly glimpse the cosmic insights that he wrote about so long ago.

Quote of the Month
"Do not oppose because in opposing the tenderness of the feeling level is crushed."
–Maharishi Mahesh Yogi
Sign of an Age of Enlightenment?
At a recent World Economic Forum in Davos, sessions opened with daily meditations.
Testimonial
"Meditation was always a struggle for me even with my yoga practice…but it was also always easy for me to pick it back up because of the way Cary Bayer taught me. He taught me to effortlessly dive down and let go of the mind chatter. When my practice is over I am clear and living with presence. When I skip it, I notice a huge difference and can hear Cary's voice coaching me back! His style is fun, easy and makes sense! Don't cheat yourself if you get the chance to take one of his classes. Your mind and body will be happy you did!"
— Linda Osorio, CMT/CYT/Owner, Stafford House of Yoga, Stafford, VA
* * *
All New Transcendental Coaching Launched
As many of you know, two of the greatest passions in my career are teaching meditation and coaching. And now the two have come together in a brand new method. Let me explain.
The Higher Self Healing Meditation that I founded in 2010, after teaching Transcendental Meditation for decades and training dozens of its teachers, can give you the experience of the Transcendent, the inner Being within you. When you combine the experience of the Transcendent with an advanced form of coaching you get my newest offering–Transcendental Coaching.
What makes Transcendental Coaching unique is that it draws upon mankind's ancient timeless wisdom–from the Hebrews, Jesus, Buddha, Lao Tzu, the Vedas of India, and the native Americans of our own continent–to help coach you into the life that you were truly born to live. It incorporates deep knowledge of the way that the Universe operates, so that your life can flow in tune with the Laws of Nature. Enjoy clarity for your mind, purity for your heart, prosperity for your net worth, and spirituality for your soul. It takes into account the knowledge of Karma, the knowledge of Dharma (action in accordance with Cosmic Law), the knowledge of clearly defined higher states of consciousness, and an understanding of the nature of Enlightenment itself. This helps bring your life increasingly in tune with Nature, and to live in freedom.
The result of this attunement is more frequent experience of synchronicities (being in the right place at the right time), less struggle, less resistance to the fulfillment of your desires, and an overall greater sense of your life as a delightful flow.
The prerequisites for Transcendental Coaching are the 3-day training in Higher Self Healing Meditation, and 10 hour-long coaching sessions.
Meditation Training Available by Skype & Webcam
When I taught Transcendental Meditation for several decades, I could only teach it in person. But since founding Higher Self Healing Meditation in 2010, I'm happy to say that the training is now available from a distance if you have a webcam on your computer. Let me know if you'd like to take advantage of this valuable stress-reducing method, even if you live far from my homes in upstate New York and south Florida.
Want to Make Money from Meditation?
When I ran my own marketing/PR firm, I loved thanking anyone who referred a new client to me, by sending a check for 10 percent of the fees generated. I have a similar policy as a meditation teacher. If you inspire someone to become my student, you'll receive 10 percent of the course fee. That means a check for you of $50 for caring enough about the people in your life that you'd like them to live with more freedom from stress. It's my way of saying, "thanks." My thought is simple–who couldn't use a piece of unexpected income?
I also give you 20 percent of the revenues for any meditation course that you produce or sponsor for me. Sponsoring means finding a time and space for the free introductory lecture and the three days of hour-and-a half classes-it could be your own living room, if you like-and it can also be held on the Internet as a webinar. I would email you a flyer for the lecture, which you'd then email to the people in your life. If five people learn to meditate, for example, you would enjoy $500 for your work.
Face to Face to Facebook
With the Internet being a much faster means of transport than the Interstate highways that I find myself on each month, the World Wide Web is, like rock 'n' roll, here to stay, and presumably, also will never die. That being the case, I've recently created a page on Facebook that can help you understand the knowledge behind meditation. The page is called:
Cary Bayer Breakthrough Coaching
You can easily subscribe to the service by clicking the Like button on top of the page at
http://www.facebook.com/BreakthroughCoaching
Business Coaching for Massage Therapists
You can easily subscribe to the service by clicking the Like button on top of the page at
http://www.facebook.com/BusinessCoachingForLMTs
Higher Self Healing Meditation
https://www.facebook.com/higherselfhealingmeditation/?ref=hl
So check your Facebook wall and let me know what you think about my posts.
By the way, if you're not yet a fan of either page, you can join up easily at either of the addresses above.
Growth Products from Cary Bayer
To view my products on the web site click here.
Love & Light,
Cary Bayer